Start: 875
The Iron Trial (Magisterium #1) by Holly Black & Cassandra Clare
Most kids would do anything to pass the Iron Trial.
Not Callum Hunt. He wants to fail.
All his life, Call has been warned by his father to stay away from magic. If he succeeds at the Iron Trial and is admitted into the Magisterium, he is sure it can only mean bad things for him.
So he tries his best to do his worst – and fails at failing.
Now the Magisterium awaits him. It's a place that's both sensational and sinister, with dark ties to his past and a twisty path to his future.
The Iron Trial is just the beginning, for the biggest test is still to come . . .
Verdict: Keep
RoseBlood by A. G. Howard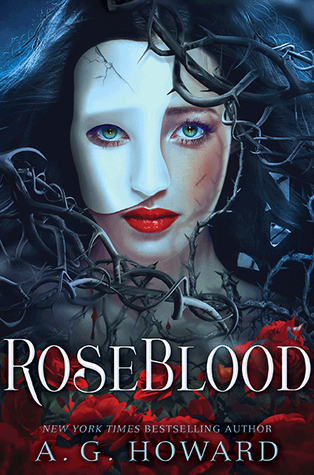 In this modern day spin on Leroux's gothic tale of unrequited love turned to madness, seventeen-year-old Rune Germain has a mysterious affliction linked to her operatic talent, and a horrifying mistake she's trying to hide. Hoping creative direction will help her, Rune's mother sends her to a French arts conservatory for her senior year, located in an opera house rumored to have ties to The Phantom of the Opera.
At RoseBlood, Rune secretly befriends the masked Thorn—an elusive violinist who not only guides her musical transformation through dreams that seem more real than reality itself, but somehow knows who she is behind her own masks. As the two discover an otherworldly connection and a soul-deep romance blossoms, Thorn's dark agenda comes to light and he's forced to make a deadly choice: lead Rune to her destruction, or face the wrath of the phantom who has haunted the opera house for a century, and is the only father he's ever known.
Verdict: Keep
Big Little Lies by Liane Moriarty
Sometimes it's the little lies that turn out to be the most lethal. . . .
A murder… . . . a tragic accident… . . . or just parents behaving badly?
What's indisputable is that someone is dead.
But who did what?
Big Little Lies follows three women, each at a crossroads:
Madeline is a force to be reckoned with. She's funny and biting, passionate, she remembers everything and forgives no one. Her ex-husband and his yogi new wife have moved into her beloved beachside community, and their daughter is in the same kindergarten class as Madeline's youngest (how is this possible?). And to top it all off, Madeline's teenage daughter seems to be choosing Madeline's ex-husband over her. (How. Is. This. Possible?).
Celeste is the kind of beautiful woman who makes the world stop and stare. While she may seem a bit flustered at times, who wouldn't be, with those rambunctious twin boys? Now that the boys are starting school, Celeste and her husband look set to become the king and queen of the school parent body. But royalty often comes at a price, and Celeste is grappling with how much more she is willing to pay.
New to town, single mom Jane is so young that another mother mistakes her for the nanny. Jane is sad beyond her years and harbors secret doubts about her son. But why? While Madeline and Celeste soon take Jane under their wing, none of them realizes how the arrival of Jane and her inscrutable little boy will affect them all.
Big Little Lies is a brilliant take on ex-husbands and second wives, mothers and daughters, schoolyard scandal, and the dangerous little lies we tell ourselves just to survive.
Verdict: Keep
Lady Midnight (The Dark Artifices #1) by Cassandra Clare
In a kingdom by the sea…
In a secret world where half-angel warriors are sworn to fight demons, parabatai is a sacred word.
A parabatai is your partner in battle. A parabatai is your best friend. Parabatai can be everything to each other—but they can never fall in love.
Emma Carstairs is a warrior, a Shadowhunter, and the best in her generation. She lives for battle. Shoulder to shoulder with her parabatai, Julian Blackthorn, she patrols the streets of Los Angeles, where vampires party on the Sunset Strip, and faeries—the most powerful of supernatural creatures—teeter on the edge of open war with Shadowhunters. When the bodies of humans and faeries turn up murdered in the same way Emma's parents were when she was a child, an uneasy alliance is formed. This is Emma's chance for revenge—and Julian's chance to get back his brother Mark, who is being held prisoner by the faerie Courts. All Emma, Mark, and Julian have to do is solve the murders within two weeks…and before the murderer targets them.
Their search takes Emma from sea caves full of sorcery to a dark lottery where death is dispensed. And each clue she unravels uncovers more secrets. What has Julian been hiding from her all these years? Why does Shadowhunter Law forbid parabatai to fall in love? Who really killed her parents—and can she bear to know the truth?
The darkly magical world of Shadowhunters has captured the imaginations of millions of readers across the globe. Join the adventure in Lady Midnight, the long-awaited first volume of a new trilogy from Cassandra Clare.
Verdict: Keep
Snow Like Ashes by Sara Raasch
A heartbroken girl. A fierce warrior. A hero in the making.
Sixteen years ago the Kingdom of Winter was conquered and its citizens enslaved, leaving them without magic or a monarch. Now, the Winterians' only hope for freedom is the eight survivors who managed to escape, and who have been waiting for the opportunity to steal back Winter's magic and rebuild the kingdom ever since.
Orphaned as an infant during Winter's defeat, Meira has lived her whole life as a refugee, raised by the Winterians' general, Sir. Training to be a warrior—and desperately in love with her best friend, and future king, Mather — she would do anything to help her kingdom rise to power again.
So when scouts discover the location of the ancient locket that can restore Winter's magic, Meira decides to go after it herself. Finally, she's scaling towers, fighting enemy soldiers, just as she's always dreamed she would. But the mission doesn't go as planned, and Meira soon finds herself thrust into a world of evil magic and dangerous politics – and ultimately comes to realize that her destiny is not, never has been, her own.
Verdict: Keep
The Defining Decade: Why Your Twenties Matter – And How to Make the Most of Them Now by Meg Jay
Our "thirty-is-the-new-twenty" culture tells us the twentysomething years don't matter. Some say they are a second adolescence. Others call them an emerging adulthood. Dr. Meg Jay, a clinical psychologist, argues that twentysomethings have been caught in a swirl of hype and misinformation, much of which has trivialized what is actually the most defining decade of adulthood.
Drawing from a decade of work with hundreds of twentysomething clients and students, THE DEFINING DECADEweaves the latest science of the twentysomething years with behind-closed-doors stories from twentysomethings themselves. The result is a provocative read that provides the tools necessary to make the most of your twenties, and shows us how work, relationships, personality, social networks, identity, and even the brain can change more during this decade than at any other time in adulthood-if we use the time wisely.
THE DEFINING DECADE is a smart, compassionate and constructive book about the years we cannot afford to miss.
Verdict: Keep
F*ck! I'm in My Twenties by Emma Koenig
F*ck! Everyone has that moment—the realization that adulthood has arrived, like a runaway train, and there's no getting out of its way. In attempt to express the contradictions and anxieties that come with being over-educated, minimally employed, mostly single, and on your own, Emma Koenig turned to the blogosphere. In this collection of her most popular posts from her blog of the same name (along with over 50% new material) Emma harnesses the power of illustrations, graphs, checklists, and flowcharts to explore this twenty-something life.
Verdict: Keep
What Alice Forgot by Liane Moriarty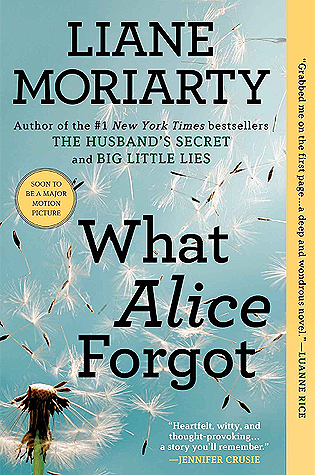 Alice Love is twenty-nine, crazy about her husband, and pregnant with her first child. So imagine Alice's surprise when she comes to on the floor of a gym (a gym! She HATES the gym) and is whisked off to the hospital where she discovers the honeymoon is truly over — she's getting divorced, she has three kids, and she's actually 39 years old. Alice must reconstruct the events of a lost decade, and find out whether it's possible to reconstruct her life at the same time. She has to figure out why her sister hardly talks to her, and how is it that she's become one of those super skinny moms with really expensive clothes. Ultimately, Alice must discover whether forgetting is a blessing or a curse, and whether it's possible to start over…
Verdict: Keep
Shift (Shade #2) by Jeri Smith-Ready
Aura's life is anything but easy. Her boyfriend, Logan, died, and his slides between ghost and shade have left her reeling. Aura knows he needs her now more than ever. She loves Logan, but she can't deny her connection with the totally supportive, totally gorgeous Zachary. And she's not sure that she wants to.
Logan and Zachary will fight to be the one by her side, but Aura needs them both to uncover the mystery of her past—the mystery of the Shift.
As Aura's search uncovers new truths, she must decide whom to trust with her secrets…and her heart.
Verdict: Keep
Alphas (Alphas #1) by Lisi Harrison
At OCD the losers are tormented.
At Alpha Academy, they're sent home.
Skye Hamilton has scored an invitation to the ultra-exclusive Alphas-only boarding school where beta is spelled LBR . What happens when the country's best, brightest, and hawtest begin clawing and scratching their way to the top?
Verdict: Remove
Finish: 874