I saw this tag being done by AbigailHaleigh on BookTube.
1. Snow White: A character that has unwavering optimism through the entire novel.
Elain from A Court of Thorns and Roses by Sarah J. Maas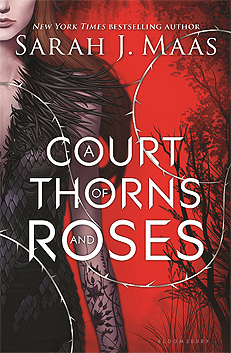 Feyre's survival rests upon her ability to hunt and kill – the forest where she lives is a cold, bleak place in the long winter months. So when she spots a deer in the forest being pursued by a wolf, she cannot resist fighting it for the flesh. But to do so, she must kill the predator and killing something so precious comes at a price …
Dragged to a magical kingdom for the murder of a faerie, Feyre discovers that her captor, his face obscured by a jewelled mask, is hiding far more than his piercing green eyes would suggest. Feyre's presence at the court is closely guarded, and as she begins to learn why, her feelings for him turn from hostility to passion and the faerie lands become an even more dangerous place. Feyre must fight to break an ancient curse, or she will lose him forever.
2. Cinderella: A character who goes through a major transformation.
Gertrude from I Hate Fairyland series by Skottie Young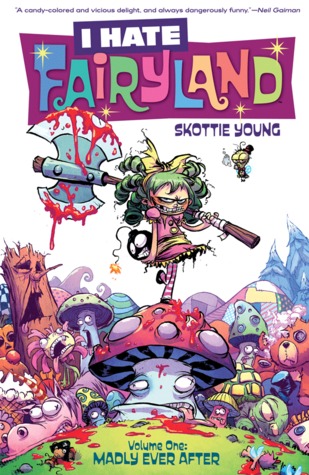 From superstar writer and artist Skottie Young (Rocket Raccoon, Wizard of OZ, Fortunately, The Milk), comes the first volume of an all-new series of adventure and mayhem.
An Adventure Time/Alice in Wonderland-style epic that smashes its cute little face against grown-up, Tank Girl/Deadpool-esque violent madness. Follow Gert, a forty year old woman stuck in a six year old's body who has been trapped in the magical world of Fairyland for nearly thirty years. Join her and her giant battle-axe on a delightfully blood-soaked journey to see who will survive the girl who HATES FAIRYLAND.
3. Aurora: A story whose main characters are separated for a large amount of time.
The Night Circus by Erin Morgenstern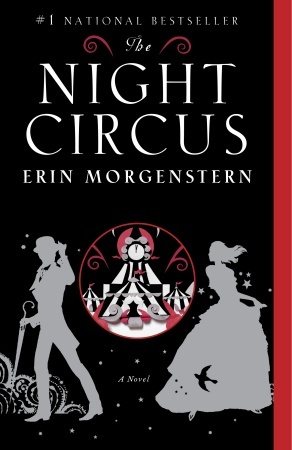 The circus arrives without warning. No announcements precede it. It is simply there, when yesterday it was not. Within the black-and-white striped canvas tents is an utterly unique experience full of breathtaking amazements. It is called Le Cirque des Rêves, and it is only open at night.
But behind the scenes, a fierce competition is underway – a duel between two young magicians, Celia and Marco, who have been trained since childhood expressly for this purpose by their mercurial instructors. Unbeknownst to them, this is a game in which only one can be left standing, and the circus is but the stage for a remarkable battle of imagination and will. Despite themselves, however, Celia and Marco tumble headfirst into love – a deep, magical love that makes the lights flicker and the room grow warm whenever they so much as brush hands.
True love or not, the game must play out, and the fates of everyone involved, from the cast of extraordinary circus per­formers to the patrons, hang in the balance, suspended as precariously as the daring acrobats overhead.
Written in rich, seductive prose, this spell-casting novel is a feast for the senses and the heart.
4. Ariel: A character who makes a large sacrifice for those they love.
Joanna from Georgia Peaches and Other Forbidden Fruit by Jayne Robin Brown
Joanna Gordon has been out and proud for years, but when her popular radio evangelist father remarries and decides to move all three of them from Atlanta to the more conservative Rome, Georgia, he asks Jo to do the impossible: to lie low for the rest of her senior year. And Jo reluctantly agrees.
Although it is (mostly) much easier for Jo to fit in as a straight girl, things get complicated when she meets Mary Carlson, the oh-so-tempting sister of her new friend at school. But Jo couldn't possibly think of breaking her promise to her dad. Even if she's starting to fall for the girl. Even if there's a chance Mary Carlson might be interested in her, too. Right?
5. Belle: A character who is seen as an outcast in their story.
Alice from The Truth About Alice by Jennifer Mathieu
Everyone knows Alice slept with two guys at one party.
But did you know Alice was sexting Brandon when he crashed his car?
It's true. Ask ANYBODY.
Rumor has it that Alice Franklin is a slut. It's written all over the bathroom stall at Healy High for everyone to see. And after star quarterback Brandon Fitzsimmons dies in a car accident, the rumors start to spiral out of control.
In this remarkable debut novel, four Healy High students–the girl who has the infamous party, the car accident survivor, the former best friend, and the boy next door–tell all they know.
But exactly what is the truth about Alice? In the end there's only one person to ask: Alice herself.
6. Jasmine: A character who is imprisoned in their story.
Maya from The Butterfly Garden (The Collector #1) by Dot Hutchison
Near an isolated mansion lies a beautiful garden.
In this garden grow luscious flowers, shady trees…and a collection of precious "butterflies"–young women who have been kidnapped and intricately tattooed to resemble their namesakes. Overseeing it all is the Gardener, a brutal, twisted man obsessed with capturing and preserving his lovely specimens.
When the garden is discovered, a survivor is brought in for questioning. FBI agents Victor Hanoverian and Brandon Eddison are tasked with piecing together one of the most stomach-churning cases of their careers. But the girl, known only as Maya, proves to be a puzzle herself.
As her story twists and turns, slowly shedding light on life in the Butterfly Garden, Maya reveals old grudges, new saviors, and horrific tales of a man who'd go to any length to hold beauty captive. But the more she shares, the more the agents have to wonder what she's still hiding…
7. Pocahontas: A historical fiction that has your heart/interest.
And I Darken (The Conqueror's Saga #1) by Kiersten White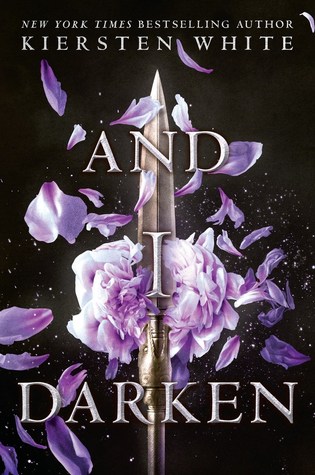 No one expects a princess to be brutal. And Lada Dragwlya likes it that way. Ever since she and her gentle younger brother, Radu, were wrenched from their homeland of Wallachia and abandoned by their father to be raised in the Ottoman courts, Lada has known that being ruthless is the key to survival. She and Radu are doomed to act as pawns in a vicious game, an unseen sword hovering over their every move. For the lineage that makes them special also makes them targets.
Lada despises the Ottomans and bides her time, planning her vengeance for the day when she can return to Wallachia and claim her birthright. Radu longs only for a place where he feels safe. And when they meet Mehmed, the defiant and lonely son of the sultan, Radu feels that he's made a true friend–and Lada wonders if she's finally found someone worthy of her passion.
But Mehmed is heir to the very empire that Lada has sworn to fight against–and that Radu now considers home. Together, Lada, Radu, and Mehmed form a toxic triangle that strains the bonds of love and loyalty to the breaking point.
8. Mulan: A character who pretends to be someone or something they are not.
from A Stone in the Sea (Bleeding Hearts #1) by A. L. Jackson
He wanted nothing at all… 
Until he found she had everything to give…
Sunder lead singer and guitarist Sebastian Stone has everything–fans, fame, and fortune. He also has a heart full of bitterness and a reputation for a short-fused temper. But an outward reputation rarely reveals the true man inside. Facing assault charges after trying to protect his younger brother, Sebastian is sent to Savannah, Georgia to lie low until the dust settles in L.A.
Shea Bentley is beautiful, kind, and hiding from the very lifestyle Sebastian has always embraced.
When the mysterious, tattooed stranger begins hanging out at the bar where she works, Shea is quick to recognize he is nothing but trouble, but she's helpless to the way her body lights up every time his intense gray eyes tangle with hers.
They both soon find themselves drowning in a sea of desire and passion that won't let them up for air.
Sebastian knows firsthand secrets never die, and he's not the only one who's hiding them.
Loving someone always comes with a price. But will it be Shea's past that costs them everything?
9. Tiana: A book that features realistic struggles.
Always and Forever, Lara Jean (To All the Boys I've Loved Before #3) by Jenny Han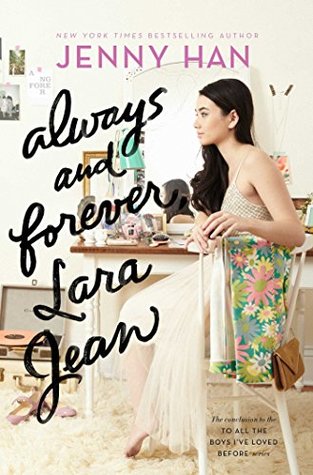 First Book
To All the Boys I've Loved Before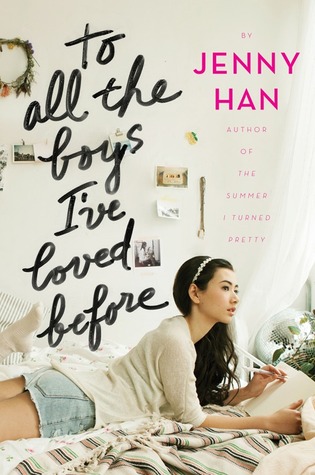 What if all the crushes you ever had found out how you felt about them… all at once?
Sixteen-year-old Lara Jean Song keeps her love letters in a hatbox her mother gave her. They aren't love letters that anyone else wrote for her; these are ones she's written. One for every boy she's ever loved–five in all. When she writes, she pours out her heart and soul and says all the things she would never say in real life, because her letters are for her eyes only. Until the day her secret letters are mailed, and suddenly, Lara Jean's love life goes from imaginary to out of control.
10. Rapunzel: A book that you think would make a great musical.
Girl in Pieces by Kathleen Glasgow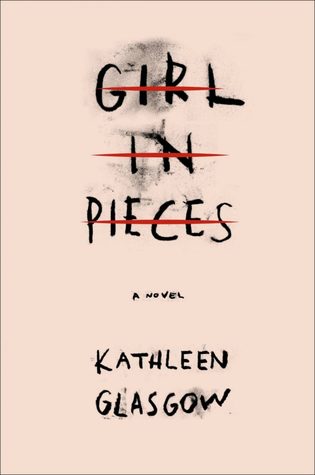 Charlotte Davis is in pieces. At seventeen she's already lost more than most people lose in a lifetime. But she's learned how to forget. The broken glass washes away the sorrow until there is nothing but calm. You don't have to think about your father and the river. Your best friend, who is gone forever. Or your mother, who has nothing left to give you.
Every new scar hardens Charlie's heart just a little more, yet it still hurts so much. It hurts enough to not care anymore, which is sometimes what has to happen before you can find your way back from the edge.
11. Merida: A book that has no love interest
This Savage Song (Monsters of Verity #1) by Victoria Schwab
There's no such thing as safe in a city at war, a city overrun with monsters. In this dark urban fantasy from author Victoria Schwab, a young woman and a young man must choose whether to become heroes or villains–and friends or enemies–with the future of their home at stake. The first of two books.
Kate Harker and August Flynn are the heirs to a divided city–a city where the violence has begun to breed actual monsters. All Kate wants is to be as ruthless as her father, who lets the monsters roam free and makes the humans pay for his protection. All August wants is to be human, as good-hearted as his own father, to play a bigger role in protecting the innocent–but he's one of the monsters. One who can steal a soul with a simple strain of music. When the chance arises to keep an eye on Kate, who's just been kicked out of her sixth boarding school and returned home, August jumps at it. But Kate discovers August's secret, and after a failed assassination attempt the pair must flee for their lives.
12. Anna and Elsa: A book that revolves around sisters.
Three Dark Crowns (Three Dark Crowns #1) by Kendare Blake
When kingdom come, there will be one.
In every generation on the island of Fennbirn, a set of triplets is born–three queens, all equal heirs to the crown and each possessor of a coveted magic. Mirabella is a fierce elemental, able to spark hungry flames or vicious storms at the snap of her fingers. Katharine is a poisoner, one who can ingest the deadliest poisons without so much as a stomachache. Arsinoe, a naturalist, is said to have the ability to bloom the reddest rose and control the fiercest of lions.
But becoming the Queen Crowned isn't solely a matter of royal birth. Each sister has to fight for it. And it's not just a game of win or lose…it's life or death. The night the sisters turn sixteen, the battle begins.
The last queen standing gets the crown.
13. Moana: Pick a book that has released/is releasing that is diverse.
I'm sorry but I can't think of anything. I'm so tired.