Easy (Contours of the Heart #1) by Tammara Webber
When Jacqueline follows her longtime boyfriend to the college of his choice, the last thing she expects is a breakup two months into sophomore year. After two weeks in shock, she wakes up to her new reality: she's single, attending a state university instead of a music conservatory, ignored by her former circle of friends, and failing a class for the first time in her life.
Leaving a party alone, Jacqueline is assaulted by her ex's frat brother. Rescued by a stranger who seems to be in the right place at the right time, she wants nothing more than to forget the attack and that night – but her savior, Lucas, sits on the back row of her econ class, sketching in a notebook and staring at her. Her friends nominate him to be the perfect rebound.
When her attacker turns stalker, Jacqueline has a choice: crumple in defeat or learn to fight back. Lucas remains protective, but he's hiding secrets of his own. Suddenly appearances are everything, and knowing who to trust is anything but easy.
Born to Love, Cursed to Feel by Samantha King
For fans of r.h. Sin comes a new voice, Samantha King's raw, relatable poetry both celebrates love and mourns the human "curse to feel." Her verse transports readers to the most private reaches of love and longing.

Born to Love, Cursed to Feel is about love—the good, the bad, and the confusing. It touches on morals and how when emotions are involved it's not as black and white. The poetry is frequently written in a narrative manner that evocatively pulls you in and makes you feel. This book is about falling in love, bad decisions, and ultimately growth. The essence of it all is to show that no matter how far one falls all the mistakes don't have to be what defines them.
The Sun is Also a Star by Nicola Yoon
Natasha: I'm a girl who believes in science and facts. Not fate. Not destiny. Or dreams that will never come true. I'm definitely not the kind of girl who meets a cute boy on a crowded New York City street and falls in love with him. Not when my family is twelve hours away from being deported to Jamaica. Falling in love with him won't be my story.

Daniel: I've always been the good son, the good student, living up to my parents' high expectations. Never the poet. Or the dreamer. But when I see her, I forget about all that. Something about Natasha makes me think that fate has something much more extraordinary in store—for both of us.

The Universe: Every moment in our lives has brought us to this single moment. A million futures lie before us. Which one will come true?
Illuminae (The Illuminae Files #1) by Amie Kaufman and Jay Kristoff
This morning, Kady thought breaking up with Ezra was the hardest thing she'd have to do. This afternoon, her planet was invaded.

The year is 2575, and two rival megacorporations are at war over a planet that's little more than an ice-covered speck at the edge of the universe. Too bad nobody thought to warn the people living on it. With enemy fire raining down on them, Kady and Ezra—who are barely even talking to each other—are forced to fight their way onto an evacuating fleet, with an enemy warship in hot pursuit.

But their problems are just getting started. A deadly plague has broken out and is mutating, with terrifying results; the fleet's AI, which should be protecting them, may actually be their enemy; and nobody in charge will say what's really going on. As Kady hacks into a tangled web of data to find the truth, it's clear only one person can help her bring it all to light: the ex-boyfriend she swore she'd never speak to again.

BRIEFING NOTE: Told through a fascinating dossier of hacked documents—including emails, schematics, military files, IMs, medical reports, interviews, and more—Illuminae is the first book in a heart-stopping, high-octane trilogy about lives interrupted, the price of truth, and the courage of everyday heroes.
Bad Girls Throughout History: 100 Remarkable Women Who Changed the World by Ann Shen
Aphra Behn, first female professional writer. Sojourner Truth, activist and abolitionist. Ada Lovelace, first computer programmer. Marie Curie, first woman to win the Nobel Prize. Joan Jett, godmother of punk. The 100 revolutionary women highlighted in this gorgeously illustrated book were bad in the best sense of the word: they challenged the status quo and changed the rules for all who followed. From pirates to artists, warriors, daredevils, scientists, activists, and spies, the accomplishments of these incredible women vary as much as the eras and places in which they effected change. Featuring bold watercolor portraits and illuminating essays by Ann Shen, Bad Girls Throughout History is a distinctive, worthy tribute.
I Hate Fairyland Vol. 1: Madly Ever After (I Hate Fairyland #1) by Skottie Young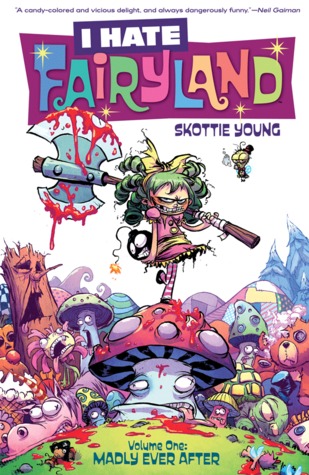 From superstar writer and artist Skottie Young (Rocket Raccoon, Wizard of OZ, Fortunately, The Milk), comes the first volume of an all-new series of adventure and mayhem.
An Adventure Time/Alice in Wonderland-style epic that smashes its cute little face against grown-up, Tank Girl/Deadpool-esque violent madness. Follow Gert, a forty year old woman stuck in a six year old's body who has been trapped in the magical world of Fairyland for nearly thirty years. Join her and her giant battle-axe on a delightfully blood-soaked journey to see who will survive the girl who HATES FAIRYLAND.
History is All You Left Me by Adam Silvera
OCD-afflicted Griffin has just lost his first love, Theo, in a drowning accident. In an attempt to hold onto every piece of the past, he forges a friendship with Theo's last boyfriend, Jackson. When Jackson begins to exhibit signs of guilt, Griffin suspects he's hiding something, and will stop at nothing to get to the truth about Theo's death. But as the grieving pair grows closer, readers will question Griffin's own version of the truth—both in terms of what he's willing to hide and what true love means.
Fables Vol. 1: Legends in Exile (Fables #1) by Bill Willingham
When a savage creature known only as the Adversary conquered the fabled lands of legends and fairy tales, all of the infamous inhabitants of folklore were forced into exile. Disguised among the "mundys," their name for normal citizens of modern-day New York, these magical characters created their own secret society that they call Fabletown. From their exclusive luxury apartment buildings on Manhattan's Upper West Side, these creatures of legend must fight for their survival in the new world.
Fables is the winner of 14 Eisner Awards and is one of the most enduring Vertigo titles ever. Here, in this new, 10th anniversary edition, is a newly colored 8-page story from the Fables prose work Peter & Max: A Fables Novel, as well as a beautiful new cover from series artist Mark Buckingham.
Eliza and Her Monsters by Francesca Zappia
Eighteen-year-old Eliza Mirk is the anonymous creator of Monstrous Sea, a wildly popular webcomic, but when a new boy at school tempts her to live a life offline, everything she's worked for begins to crumble.
Scott Westerfeld's Afterworlds meets Nimona in this novel about art, fandom, and finding the courage to be yourself. Features illustrations by the author throughout. Perfect for readers of Rainbow Rowell's Fangirl, this is the second novel by the acclaimed author of Made You Up.
In the real world, Eliza Mirk is shy, weird, smart, and friendless. Online, Eliza is LadyConstellation, the anonymous creator of a popular webcomic called Monstrous Sea. With millions of followers and fans throughout the world, Eliza's persona is popular. Eliza can't imagine enjoying the real world as much as she loves her digital community. Then Wallace Warland transfers to her school, and Eliza begins to wonder if a life offline might be worthwhile. But when Eliza's secret is accidentally shared with the world, everything she's built—her story, her relationship with Wallace, and even her sanity—begins to fall apart.
With pages from Eliza's webcomic, as well as screenshots from Eliza's online forums, this uniquely formatted book will appeal to fans of Noelle Stevenson's Nimona and Rainbow Rowell's Fangirl.
The Female of the Species by Mindy McGinnis
A contemporary YA novel that examines rape culture through alternating perspectives.
Alex Craft knows how to kill someone. And she doesn't feel bad about it.
Three years ago, when her older sister, Anna, was murdered and the killer walked free, Alex uncaged the language she knows best—the language of violence. While her own crime goes unpunished, Alex knows she can't be trusted among other people. Not with Jack, the star athlete who wants to really know her but still feels guilty over the role he played the night Anna's body was discovered. And not with Peekay, the preacher's kid with a defiant streak who befriends Alex while they volunteer at an animal shelter. Not anyone.
As their senior year unfolds, Alex's darker nature breaks out, setting these three teens on a collision course that will change their lives forever.