I saw this tag being done by Aria @ Snow White Hates Apples.
The Rules
Link back to Kyera's original post @Kyera's Library so she can see all your answers!
Thank the person(s) who tagged you… show the community some love!
Obviously, come up with your wonderful answers!
Don't forget to tag others to keep the tag going!
Odin: Favorite standalone.
Odin is the All-Father, the leader of the Norse Gods. He is the god of wisdom, poetry, battle, death, wine, and war, among other things.
Thirteen Reasons Why by Jay Asher
You can't stop the future. You can't rewind the past. The only way to learn the secret. . . is to press play.
Clay Jensen doesn't want anything to do with the tapes Hannah Baker made. Hannah is dead. Her secrets should be buried with her.
Then Hannah's voice tells Clay that his name is on her tapes– and that he is, in some way, responsible for her death.
All through the night, Clay keeps listening. He follows Hannah's recorded words throughout his small town. . .
. . .and what he discovers changes his life forever.
Thor: A book that hits you in the feels.
Thor is the god of thunder, weather, warriors, strength, and storms, so his might packs a punch. He is married to the beautiful Lady Sif.
If You Feel Too Much: Thoughts on Things Found and Lost and Hoped For by Jaime Tworkowski
In 2006 Jamie Tworkowski wrote a story called "To Write Love on Her Arms," about helping a friend through her struggle with drug addiction, depression, and self-injury. The piece was so hauntingly beautiful that it quickly went viral, giving birth to a non-profit organization of the same name. Now, To Write Love on Her Arms (TWLOHA) is an internationally recognized leader in suicide prevention and a source of hope, encouragement, and support for people worldwide.
If You Feel Too Much is a celebration of hope, wonder, and what it means to be human. From personal stories of struggling on days most people celebrate to words of strength and encouragement in moments of loss, the essays in this book invite readers to believe that it's okay to admit to pain and okay to ask for help. If You Feel Too Much is an important book from one of this generation's most important voices.
Loki: Biggest book plot twist or character betrayal.
Loki is the god of mischief, thieves and thrives on chaos.
Paper Princess (The Royals #1) by Erin Watt
From strip clubs and truck stops to southern coast mansions and prep schools, one girl tries to stay true to herself.
These Royals will ruin you…
Ella Harper is a survivor—a pragmatic optimist. She's spent her whole life moving from town to town with her flighty mother, struggling to make ends meet and believing that someday she'll climb out of the gutter. After her mother's death, Ella is truly alone.
Until Callum Royal appears, plucking Ella out of poverty and tossing her into his posh mansion among his five sons who all hate her. Each Royal boy is more magnetic than the last, but none as captivating as Reed Royal, the boy who is determined to send her back to the slums she came from.
Reed doesn't want her. He says she doesn't belong with the Royals.
He might be right.
Wealth. Excess. Deception. It's like nothing Ella has ever experienced, and if she's going to survive her time in the Royal palace, she'll need to learn to issue her own Royal decrees.
Frigg: OTP
Frigg is Odin's wife, the goddess of love, marriage, fertility, and fate.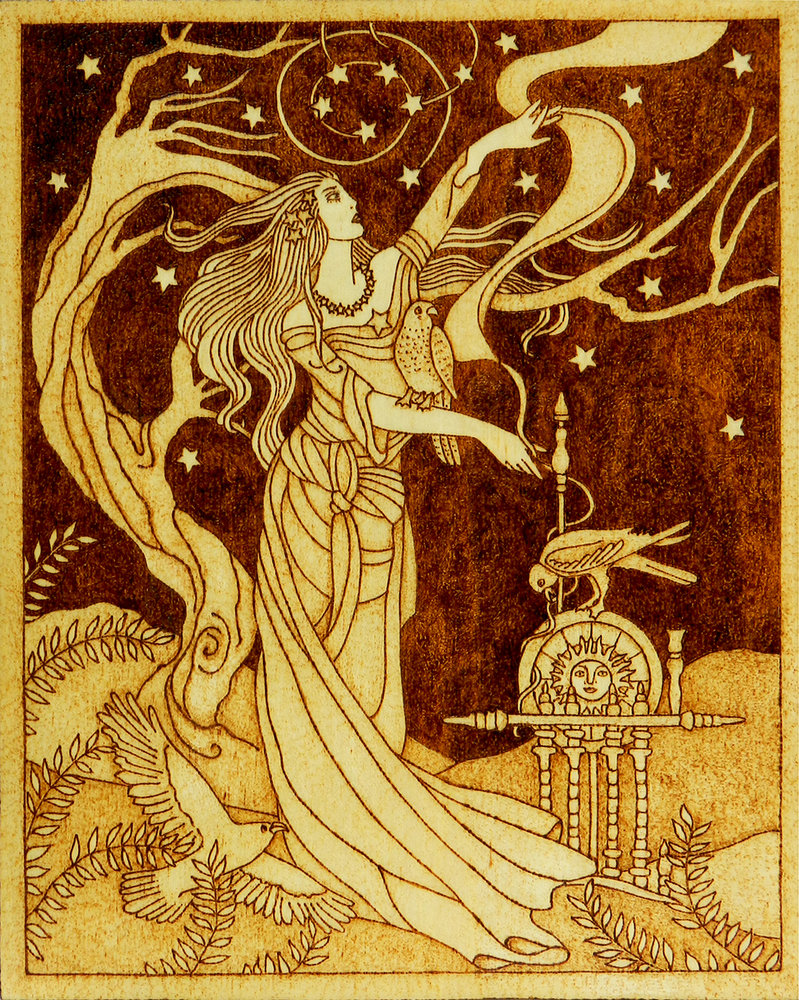 Alyssa and Morpheus from the Splintered series by A. G. Howard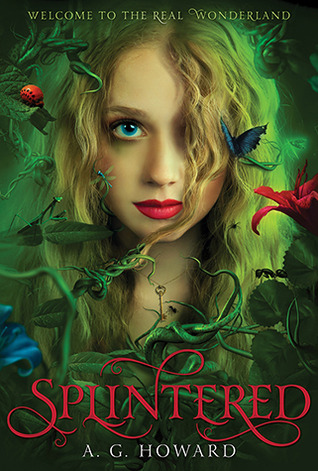 Alyssa Gardner hears the whispers of bugs and flowers—precisely the affliction that landed her mother in a mental hospital years before. This family curse stretches back to her ancestor Alice Liddell, the real-life inspiration for Lewis Carroll's Alice's Adventures in Wonderland. Alyssa might be crazy, but she manages to keep it together. For now.
When her mother's mental health takes a turn for the worse, Alyssa learns that what she thought was fiction is based in terrifying reality. The real Wonderland is a place far darker and more twisted than Lewis Carroll ever let on. There, Alyssa must pass a series of tests, including draining an ocean of Alice's tears, waking the slumbering tea party, and subduing a vicious bandersnatch, to fix Alice's mistakes and save her family. She must also decide whom to trust: Jeb, her gorgeous best friend and secret crush, or the sexy but suspicious Morpheus, her guide through Wonderland, who may have dark motives of his own.
Heimdall: Favorite second book in a series
Heimdall is the god of loyalty, faithfulness and he is who protects the bi-frost, the bridge the connects all nine worlds.
A Court of Mist and Fury (A Court of Thorns and Roses #2) by Sarah J. Maas
First Book
A Court of Thorns and Roses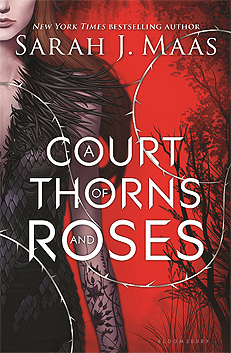 Feyre's survival rests upon her ability to hunt and kill – the forest where she lives is a cold, bleak place in the long winter months. So when she spots a deer in the forest being pursued by a wolf, she cannot resist fighting it for the flesh. But to do so, she must kill the predator and killing something so precious comes at a price …
Dragged to a magical kingdom for the murder of a faerie, Feyre discovers that her captor, his face obscured by a jewelled mask, is hiding far more than his piercing green eyes would suggest. Feyre's presence at the court is closely guarded, and as she begins to learn why, her feelings for him turn from hostility to passion and the faerie lands become an even more dangerous place. Feyre must fight to break an ancient curse, or she will lose him forever.
Baldur: Favorite male character
Baldur is the beloved son of Odin and Frigg, twin brother of Hodor.
Koinzell from Ubel Blatt by Etorouji Shiono
Rumors stir throughout the land: when the wielder of the black sword draws his dark blade, all who stand in its path are torn asunder…!
Köinzell, the mysterious young boy who carries the black sword, undeniably wields it with exceptional skill, but can he truly be responsible for the bloody rumors?
Pursued by the Traitorous Lances, four powerful warriors who were thought to have been defeated by the Seven Heroes, the strength of the young swordsman will be tested to its limit. At battle's end, only the shocking truth of Köinzell's quest will stand above the corpses of his enemies…
An epic fantasy on the grandest of scales!
Sif: Most beautiful book cover.
Lady Sif is known for her beautiful golden tresses, although she is also the goddess of harvest and married to Thor.
Alice's Adventures in Wonderland and Through the Looking-Glass by Lewis Carroll
Seven Seas is pleased to present Alice's Adventures in Wonderland and Through the Looking-Glass, an all-new, lavishly illustrated omnibus collection that contains Lewis Carroll's original Alice in Wonderland novels.
For those who have never read Lewis Carroll's Alice novels, or for those who wish to revisit the beloved tales, this new edition of a perennial classic will appeal to today's reader who appreciates adorable manga-styled artwork. This 320-page collection contains all of Lewis Carroll's original text along with two full-color spreads and one hundred black-and-white full-page and spot illustrations.
Alice's Adventures in Wonderland and Through the Looking-Glass is a collection of stories featuring the titular character, Alice, and her misadventures through the curious and fantastical lands of Wonderland. As little Alice goes deeper and deeper down the rabbit hole, she meets an assortment of oddball characters, like the eccentric March Hare, the whimsical Mad Hatter, and the enigmatic Cheshire Cat, who will all become familiar faces within this strange world.
If Alice is to navigate the dangerous yet fascinating landscape of Wonderland, she must learn who is friend and who is foe, and use her good breeding and wits to find a way home.
Frey: Book/series that makes you happy.
Frey is the Lord of weather, god of light, summer, master of agriculture, fertility, and brother of Freya.
Shiver (The Wolves of Mercy Falls #1) by Maggie Stiefvater
For years, Grace has watched the wolves in the woods behind her house. One yellow-eyed wolf—her wolf—is a chilling presence she can't seem to live without.
Meanwhile, Sam has lived two lives: In winter, the frozen woods, the protection of the pack, and the silent company of a fearless girl. In summer, a few precious months of being human… until the cold makes him shift back again.
Now, Grace meets a yellow-eyed boy whose familiarity takes her breath away. It's her wolf. It has to be. But as winter nears, Sam must fight to stay human—or risk losing himself, and Grace, forever.
Freya: Favorite book setting
Freya is the goddess of love and beauty, fertility, war, wealth and growth, and sister of Frey.
The video game world from Gamer Girl by Mari Mancusi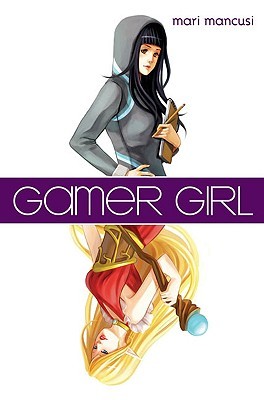 After Maddy's parents divorce, she's stuck starting over at a new high school. Friendless and nicknamed Freak Girl, Manga-loving artist Maddy finds refuge in the interactive online game Fields of Fantasy. In that virtual world, she reinvents herself as Allora, a gorgeous elfin alter ego, and meets a true friend in Sir Leo. Maddy can't hide behind Allora forever, especially as a real-life crush begins edging in on her budding virtual romance. But would anyone pick the real Maddy, gamer girl and Manga freak, over the fantasy? This fresh, geeky/cool novel includes online chats and exciting gaming, and features Maddy's Mangastyle artwork.
Tyr: Favorite book with a big upheavel/epic fight scene
Tyr is the god of war.
from Rurouni Kenshin by Nobuhiro Watsuki
Packed with action, romance and historical intrigue, Rurouni Kenshin is one of the most beloved and popular manga series worldwide. Set against the backdrop of the Meiji Restoration, it tells the saga of Himura Kenshin, once an assassin of ferocious power, now a humble rurouni, a wandering swordsman fighting to protect the honor of those in need.
A hundred and fifty years ago in Kyoto, amid the flames of revolution, there arose a warrior, an assassin of such ferocious power he was given the title Hitokiri: Manslayer. With his bloodstained blade, Hitokiri Battosai helped close the turbulent Bakumatsu period and end the reign of the shoguns, slashing open the way toward the progressive Meiji Era.  Then he vanished, and with the flow of years became legend.
In the 11th year of Meiji, in the middle of Tokyo, the tale begins. Himura Kenshin, a humble rurouni, or wandering swordsman, comes to the aid of Kamiya Kaoru, a young woman struggling to defend her father's school of swordsmanship against attacks by the infamous Hitokiri Battosai. But neither Kenshin nor Battosai are quite what they seem…
Uller: Character death that affected you the most
Uller is the god of death, winter, archery, and hunting.
From Game of Thrones (A Song of Ice and Fire #1) by George R. R. Martin
Long ago, in a time forgotten, a preternatural event threw the seasons out of balance. In a land where summers can last decades and winters a lifetime, trouble is brewing. The cold is returning, and in the frozen wastes to the north of Winterfell, sinister and supernatural forces are massing beyond the kingdom's protective Wall. At the center of the conflict lie the Starks of Winterfell, a family as harsh and unyielding as the land they were born to. Sweeping from a land of brutal cold to a distant summertime kingdom of epicurean plenty, here is a tale of lords and ladies, soldiers and sorcerers, assassins and bastards, who come together in a time of grim omens.
Here an enigmatic band of warriors bear swords of no human metal; a tribe of fierce wildlings carry men off into madness; a cruel young dragon prince barters his sister to win back his throne; and a determined woman undertakes the most treacherous of journeys. Amid plots and counterplots, tragedy and betrayal, victory and terror, the fate of the Starks, their allies, and their enemies hangs perilously in the balance, as each endeavors to win that deadliest of conflicts: the game of thrones.
Njord: Favorite book with an epic journey on water/ocean setting
Njord is the god of the wind and the sea.
The Sea of Monsters (Percy Jackson and the Olympians #2) by Rick Riordan
First Book
The Lightning Thief
Percy Jackson is a good kid, but he can't seem to focus on his schoolwork or control his temper. And lately, being away at boarding school is only getting worse—Percy could have sworn his pre-algebra teacher turned into a monster and tried to kill him. When Percy's mom finds out, she knows it's time that he knew the truth about where he came from, and that he go to the one place he'll be safe. She sends Percy to Camp Half Blood, a summer camp for demigods (on Long Island), where he learns that the father he never knew is Poseidon, God of the Sea. Soon a mystery unfolds and together with his friends—one a satyr and the other the demigod daughter of Athena—Percy sets out on a quest across the United States to reach the gates of the Underworld (located in a recording studio in Hollywood) and prevent a catastrophic war between the gods.
Valkyrie: Favorite strong female character
The Valkyries, much like Amazons, are strong female warriors.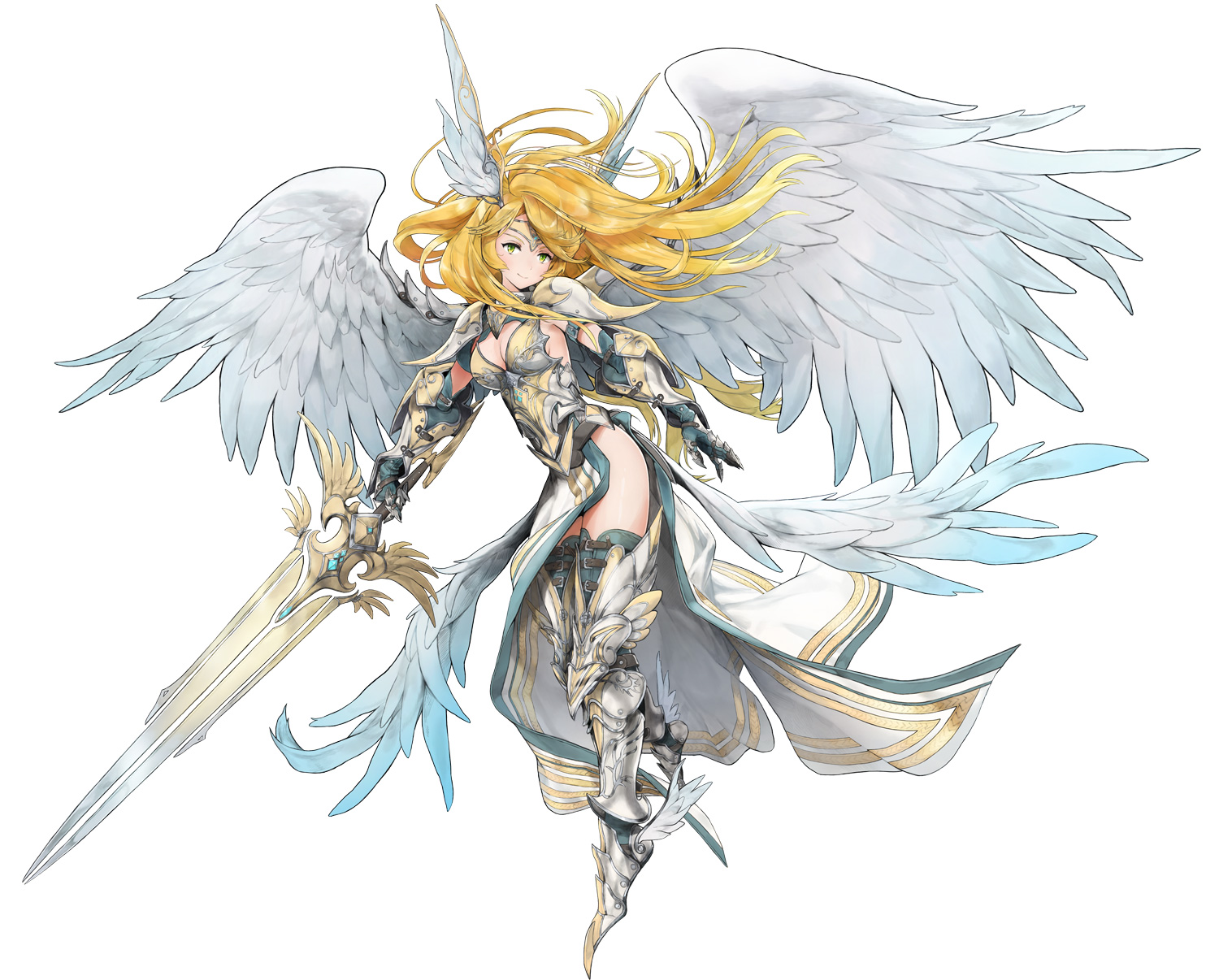 Gertrude from I Hate Fairyland by Skottie Young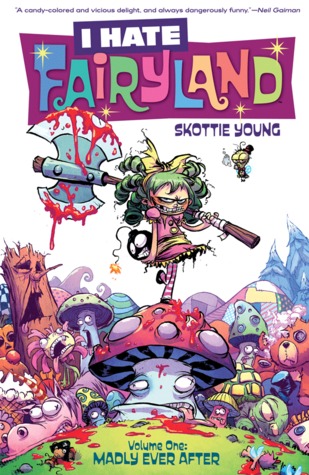 From superstar writer and artist Skottie Young (Rocket Raccoon, Wizard of OZ, Fortunately, The Milk), comes the first volume of an all-new series of adventure and mayhem.
An Adventure Time/Alice in Wonderland-style epic that smashes its cute little face against grown-up, Tank Girl/Deadpool-esque violent madness. Follow Gert, a forty year old woman stuck in a six year old's body who has been trapped in the magical world of Fairyland for nearly thirty years. Join her and her giant battle-axe on a delightfully blood-soaked journey to see who will survive the girl who HATES FAIRYLAND.
Aesir/Vanir: Favorite book "crew"
The Aesir and the Vanir are the two groups of Norse gods, believed to be the old and new gods.
Court of Dreams from A Court of Thorns and Roses series by Sarah J. Maas
Seipyrts: Favorite sidekick (non-human character)
Seipyrts is Odin's trusty eight legged steed, yes you heard that correctly – eight legs. I promise that he is the god's horse companion and not a giant spider that he rides around on. . . although that would probably stike more fear in the hearts of his enemies than a pretty horse does.
AIDAN from Illuminae (The Illuminae Files #1) by Amie Kaufman and Jay Kristoff
This morning, Kady thought breaking up with Ezra was the hardest thing she'd have to do. This afternoon, her planet was invaded.
The year is 2575, and two rival megacorporations are at war over a planet that's little more than an ice-covered speck at the edge of the universe. Too bad nobody thought to warn the people living on it. With enemy fire raining down on them, Kady and Ezra—who are barely even talking to each other—are forced to fight their way onto an evacuating fleet, with an enemy warship in hot pursuit.
But their problems are just getting started. A deadly plague has broken out and is mutating, with terrifying results; the fleet's AI, which should be protecting them, may actually be their enemy; and nobody in charge will say what's really going on. As Kady hacks into a tangled web of data to find the truth, it's clear only one person can help her bring it all to light: the ex-boyfriend she swore she'd never speak to again.
BRIEFING NOTE: Told through a fascinating dossier of hacked documents—including emails, schematics, military files, IMs, medical reports, interviews, and more—Illuminae is the first book in a heart-stopping, high-octane trilogy about lives interrupted, the price of truth, and the courage of everyday heroes.