1
A Study in Scarlet (Sherlock Holmes #1) by Conan Doyle
When Dr. Watson ends up renting rooms in Baker Street with the eccentric Sherlock Holmes, he finds that he has let himself in for a great deal more than he imagined. He is called upon to help the budding detective solve a perplexing mystery, involving a dead body found in a locked room. Although the body shows no signs of having been attacked Holmes is convinced that a murder has been committed. As Watson looks on, he uses his exceptional powers of deduction to unravel a case that involves both kidnapping and thwarted love.
(146 pages)
2
Annihilation (Southern Reach #1) by Jeff VanderMeer
Welcome to Area X. An Edenic wilderness, an environmental disaster zone, a mystery for thirty years.
For thirty years, Area X, monitored by the secret agency known as the Southern Reach, has remained mysterious and remote behind its intangible border– an environmental disaster zone, though to all appearances an abundant wilderness. Eleven expeditions have been sent in to investigate; even for those that have made it out alive, there have been terrible consequences.
'Annihilation' is the story of the twelfth expedition and is told by its nameless biologist. Introverted but highly intelligent, the biologist brings her own secrets with her. She is accompanied by a psychologist, an anthropologist and a surveyor, their stated mission: to chart the land, take samples and expand the Southern Reach's understanding of Area X.
But they soon find out that they are being manipulated by forces both strange and all too familiar. An unmapped tunnel is not as it first appears. An inexplicable moaning calls in the distance at dusk. And while each member of the expedition has surrendered to the authority of the Southern Reach, the power of Area X is far more difficult to resist.
(195 pages)
3
So Yesterday by Scott Westerfeld
Ever wonder who was the first kid to keep a wallet on a big chunky chain, or wear way-too-big pants on purpose? What about the mythical first guy who wore his baseball cap backwards? These are the Innovators, the people on the very cusp of cool. Seventeen-year-old Hunter Braque's job is finding them for the retail market.But when a big-money client disappears, Hunter must use all his cool-hunting talents to find her. Along the way he's drawn into a web of brand-name intrigue-a missing cargo of the coolest shoes he's ever seen, ads for products that don't exist, and a shadowy group dedicated to the downfall of consumerism as we know it.
(240 pages)
4
And Then There Were None by Agatha Christie
First, there were ten – a curious assortment of strangers summoned as weekend guests to a private island off the coast of Devon. Their host, an eccentric millionaire unknown to all of them, is nowhere to be found. All that the guests have in common is a wicked past they're unwilling to reveal – and a secret that will seal their fate. For each has been marked for murder. One by one they fall prey. Before the weekend is out, there will be none. And only the dead are above suspicion.
(264 pages)
5
Finding Audrey by Sophie Kinsella
Audrey can't leave the house. She can't even take off her dark glasses inside the house.
Then her brother's friend Linus stumbles into her life. With his friendly, orange-slice smile and his funny notes, he starts to entice Audrey out again – well, Starbucks is a start. And with Linus at her side, Audrey feels like she can do the things she'd thought were too scary. Suddenly, finding her way back to the real world seems achievable.
Be prepared to laugh, dream and hope with Audrey as she learns that even when you feel like you have lost yourself, love can still find you . . .
(280 pages)
6
The Fairest of Them All by Carolyn Turgeon
What if Rapunzel was Snow White's evil stepmother? From the author of Godmother and Mermaid, The Fairest of Them All explores what happens when fairy tale heroines grow up and don't live happily ever after.
Living in an enchanted forest, Rapunzel spends her days tending a mystical garden with her adoptive mother, Mathena. A witch, Mathena was banished from court because of her magic powers, though the women from the kingdom still seek her advice and herbal remedies. She waits, biding her time to exact revenge against those who betrayed her.
One day Rapunzel's beautiful voice and long golden locks captivate a young prince hunting in the forest nearby. Overcome, he climbs her hair up to her chamber and they fall into each other's arms. But their afternoon of passion is fleeting, and the prince must return to his kingdom, as he is betrothed to another.
Now king, he marries his intended to bring peace to his kingdom. They have a stunning daughter named Snow White. Yet the king is haunted by his memories of Rapunzel, and after the mysterious death of his wife, realizes he is free to marry the woman he never stopped longing for. In hopes of also replacing the mother of his beloved daughter, the king makes Rapunzel his queen.
But when Mathena's wedding gift of an ancient mirror begins speaking to her, Rapunzel falls under its evil spell, and the king begins to realize that Rapunzel is not the beautiful, kind woman he dreamed of.
(288 pages)
7
Dear Reader by Mary O' Connell
Gilmore Girls with magical realism! Dear Reader is an original, poignant modern-day take on Wuthering Heights, as a high school senior searches for her teacher and meets a boy who may just be Heathcliff come to life
For seventeen-year-old Flannery Fields, the only respite from the plaid-skirted mean girls at Sacred Heart High School at is her beloved teacher Miss Sweeney's AP English class. But when Miss Sweeney doesn't show up to teach Flannery's favorite book, Wuthering Heights, leaving behind her purse, Flannery knows something is wrong.
The police are called, and Flannery gives them everything—except Miss Sweeney's copy of Wuthering Heights. This she holds onto. And good thing she does, because when she opens it, it has somehow transformed into Miss Sweeney's real-time diary. It seems Miss Sweeney is in New York City—and she's in trouble.
So Flannery does something very unFlannery-like: she skips school and sets out for Manhattan, with the book as her guide. But as soon as she arrives, she meets a boy named Heath. Heath is British, on a gap year, incredibly smart—yet he's never heard of Albert Einstein or Anne Frank. In fact, Flannery can't help thinking that he seems to have stepped from the pages of Brontë's novel. Could it be?
With inimitable wit and heart, Mary O'Connell has crafted a love letter to reading, to the books that make us who we are. Dear Reader, charming and heartbreaking, is a novel about finding your people, on the page in the world.
(295 pages)
8
Paper Towns by John Green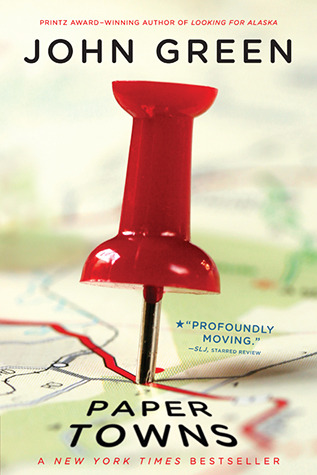 Who is the real Margo?
Quentin Jacobsen has spent a lifetime loving the magnificently adventurous Margo Roth Spiegelman from afar. So when she cracks open a window and climbs into his life—dressed like a ninja and summoning him for an ingenious campaign of revenge—he follows. After their all-nighter ends, and a new day breaks, Q arrives at school to discover that Margo, always an enigma, has now become a mystery. But Q soon learns that there are clues—and they're for him. Urged down a disconnected path, the closer he gets, the less Q sees the girl he thought he knew…
(305 pages)
9
The Isle of the Lost (Descendants #1) by Melissa De La Cruz
Twenty years ago, all the evil villains were banished from the kingdom of Auradon and made to live in virtual imprisonment on the Isle of the Lost. The island is surrounded by a magical force field that keeps the villains and their descendants safely locked up and away from the mainland. Life on the island is dark and dreary. It is a dirty, decrepit place that's been left to rot and forgotten by the world.
But hidden in the mysterious Forbidden Fortress is a dragon's eye: the key to true darkness and the villains' only hope of escape. Only the cleverest, evilest, nastiest little villain can find it…who will it be?
Maleficent, Mistress of the Dark: As the self-proclaimed ruler of the isle, Maleficent has no tolerance for anything less than pure evil. She has little time for her subjects, who have still not mastered life without magic. Her only concern is getting off the Isle of the Lost.
Mal: At sixteen, Maleficent's daughter is the most talented student at Dragon Hall, best known for her evil schemes. And when she hears about the dragon's eye, Mal thinks this could be her chance to prove herself as the cruelest of them all.
Evie: Having been castle-schooled for years, Evil Queen's daughter, Evie, doesn't know the ins and outs of Dragon Hall. But she's a quick study, especially after she falls for one too many of Mal's little tricks.
Jay: As the son of Jafar, Jay is a boy of many talents: stealing and lying to name a few. Jay and Mal have been frenemies forever and he's not about to miss out on the hunt for the dragon's eye.
Carlos: Cruella de Vil's son may not be bravest, but he's certainly clever. Carlos's inventions may be the missing piece in locating the dragon's eye and ending the banishment for good.
Mal soon learns from her mother that the dragon's eye is cursed and whoever retrieves it will be knocked into a deep sleep for a thousand years. But Mal has a plan to capture it. She'll just need a little help from her "friends." In their quest for the dragon's eye, these kids begin to realize that just because you come from an evil family tree, being good ain't so bad.
(311 pages)
10
The Fault in Our Stars by John Green
Despite the tumor-shrinking medical miracle that has bought her a few years, Hazel has never been anything but terminal, her final chapter inscribed upon diagnosis. But when a gorgeous plot twist named Augustus Waters suddenly appears at Cancer Kid Support Group, Hazel's story is about to be completely rewritten.
Insightful, bold, irreverent, and raw, The Fault in Our Stars is award-winning author John Green's most ambitious and heartbreaking work yet, brilliantly exploring the funny, thrilling, and tragic business of being alive and in love.
(313 pages)