I found this tag on Booktube here and thought it was kinda cool.
Questions:
1. Rambler Rose- An long read with multiple main characters and plot lines. It twists, turns, and puts on a show with language.
A Song of Ice and Fire series by George R. R. Martin
Long ago, in a time forgotten, a preternatural event threw the seasons out of balance. In a land where summers can last decades and winters a lifetime, trouble is brewing. The cold is returning, and in the frozen wastes to the north of Winterfell, sinister and supernatural forces are massing beyond the kingdom's protective Wall. At the center of the conflict lie the Starks of Winterfell, a family as harsh and unyielding as the land they were born to. Sweeping from a land of brutal cold to a distant summertime kingdom of epicurean plenty, here is a tale of lords and ladies, soldiers and sorcerers, assassins and bastards, who come together in a time of grim omens.
Here an enigmatic band of warriors bear swords of no human metal; a tribe of fierce wildlings carry men off into madness; a cruel young dragon prince barters his sister to win back his throne; and a determined woman undertakes the most treacherous of journeys. Amid plots and counterplots, tragedy and betrayal, victory and terror, the fate of the Starks, their allies, and their enemies hangs perilously in the balance, as each endeavors to win that deadliest of conflicts: the game of thrones.
2. Hybrid Tea Rose- Modern and long-lasting; a collection of memorable 20th or 21st century poetry or short stories that stay with you for a long time.
Born to Love, Cursed to Feel by Samantha King
For fans of R. H. Sin comes a new voice, Samantha King's raw, relatable poetry both celebrates love and mourns the human "curse to feel." Her verse transports readers to the most private reaches of love and longing.
Born to Love, Cursed to Feel is about love—the good, the bad, and the confusing. It touches on morals and how when emotions are involved it's not as black and white. The poetry is frequently written in a narrative manner that evocatively pulls you in and makes you feel. This book is about falling in love, bad decisions, and ultimately growth. The essence of it all is to show that no matter how far one falls all the mistakes don't have to be what defines them.
3. Lilacs- A seasonally inspired book that you look forward to revisiting every year.
Shiver (The Wolves of Mercy Falls #1) by Maggie Stiefvater
For years, Grace has watched the wolves in the woods behind her house. One yellow-eyed wolf—her wolf—is a chilling presence she can't seem to live without.
Meanwhile, Sam has lived two lives: In winter, the frozen woods, the protection of the pack, and the silent company of a fearless girl. In summer, a few precious months of being human… until the cold makes him shift back again.
Now, Grace meets a yellow-eyed boy whose familiarity takes her breath away. It's her wolf. It has to be. But as winter nears, Sam must fight to stay human—or risk losing himself, and Grace, forever.
4. Bleeding Heart- A beautiful, dark work that broke your heart
The Female of the Species by Mindy McGinnis
A contemporary YA novel that examines rape culture through alternating perspectives.
Alex Craft knows how to kill someone. And she doesn't feel bad about it.
Three years ago, when her older sister, Anna, was murdered and the killer walked free, Alex uncaged the language she knows best—the language of violence. While her own crime goes unpunished, Alex knows she can't be trusted among other people. Not with Jack, the star athlete who wants to really know her but still feels guilty over the role he played the night Anna's body was discovered. And not with Peekay, the preacher's kid with a defiant streak who befriends Alex while they volunteer at an animal shelter. Not anyone.
As their senior year unfolds, Alex's darker nature breaks out, setting these three teens on a collision course that will change their lives forever.
5. Queen Anne's Lace- A work that is sometimes seen as a weed, but that you see for what it is. Great literature.
Splintered series by A. G. Howard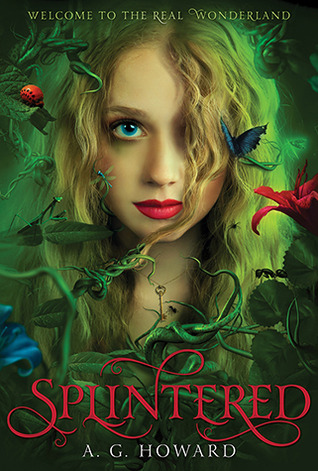 Alyssa Gardner hears the whispers of bugs and flowers—precisely the affliction that landed her mother in a mental hospital years before. This family curse stretches back to her ancestor Alice Liddell, the real-life inspiration for Lewis Carroll's Alice's Adventures in Wonderland. Alyssa might be crazy, but she manages to keep it together. For now.
When her mother's mental health takes a turn for the worse, Alyssa learns that what she thought was fiction is based in terrifying reality. The real Wonderland is a place far darker and more twisted than Lewis Carroll ever let on. There, Alyssa must pass a series of tests, including draining an ocean of Alice's tears, waking the slumbering tea party, and subduing a vicious bandersnatch, to fix Alice's mistakes and save her family. She must also decide whom to trust: Jeb, her gorgeous best friend and secret crush, or the sexy but suspicious Morpheus, her guide through Wonderland, who may have dark motives of his own.
6. Forget-me-not- An early bloomer. A work you read early in life and will never forget.
Where the Sidewalk Ends by Shel Silverstein
Where the Sidewalk Ends turns forty! Celebrate with this anniversary edition that features an eye-catching commemorative red sticker. This classic poetry collection, which is both outrageously funny and profound, has been the most beloved of Shel Silverstein's poetry books for generations.
Where the sidewalk ends, Shel Silverstein's world begins. There you'll meet a boy who turns into a TV set and a girl who eats a whale. The Unicorn and the Bloath live there, and so does Sarah Cynthia Sylvia Stout who will not take the garbage out. It is a place where you wash your shadow and plant diamond gardens, a place where shoes fly, sisters are auctioned off, and crocodiles go to the dentist.
Shel Silverstein's masterful collection of poems and drawings is one of Parent & Child magazine's 100 Greatest Books for Kids. School Library Journal said, "Silverstein has an excellent sense of rhythm and rhyme and a good ear for alliteration and assonance that make these poems a pleasure to read aloud."
7. Pansies- A classic that's losing popularity. Once upon a time everyone had them in their garden/library, but now they're being replaced with begonias.
The Phantom Tollbooth by Norton Juster
Hailed as "a classic. . . . humorous, full of warmth and real invention" (The New Yorker), this beloved story -first published more than fifty years ago- introduces readers to Milo and his adventures in the Lands Beyond.
For Milo, everything's a bore. When a tollbooth mysteriously appears in his room, he drives through only because he's got nothing better to do. But on the other side, things seem different. Milo visits the Island of Conclusions (you get there by jumping), learns about time from a ticking watchdog named Tock, and even embarks on a quest to rescue Rhyme and Reason! Somewhere along the way, Milo realizes something astonishing. Life is far from dull. In fact, it's exciting beyond his wildest dreams. . . .
8. Trillium- Native to north America, in some provinces and states it's illegal to pick these; a banned or challenged book
Go Ask Alice by Anonymous
A teen plunges into a downward spiral of addiction in this classic cautionary tale.
January 24th
After you've had it, there isn't even life without drugs….
It started when she was served a soft drink laced with LSD in a dangerous party game. Within months, she was hooked, trapped in a downward spiral that took her from her comfortable home and loving family to the mean streets of an unforgiving city. It was a journey that would rob her of her innocence, her youth — and ultimately her life.
Read her diary.
Enter her world.
You will never forget her.
For thirty-five years, the acclaimed, bestselling first-person account of a teenage girl's harrowing decent into the nightmarish world of drugs has left an indelible mark on generations of teen readers. As powerful — and as timely — today as ever, Go Ask Alice remains the definitive book on the horrors of addiction.
9. Orchid- A work that was as challenging to read and maintain an orchid
The Raven Boys (The Raven Cycle #1) by Maggie Stiefvater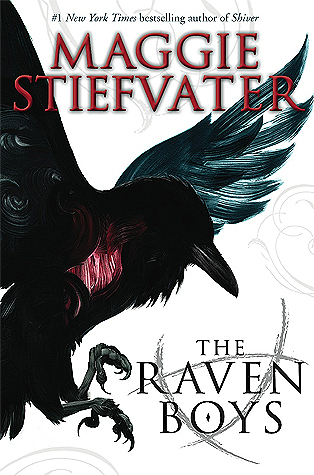 "There are only two reasons a non-seer would see a spirit on St. Mark's Eve," Neeve said. "Either you're his true love . . . or you killed him."
It is freezing in the churchyard, even before the dead arrive.
Every year, Blue Sargent stands next to her clairvoyant mother as the soon-to-be dead walk past. Blue herself never sees them—not until this year, when a boy emerges from the dark and speaks directly to her.
His name is Gansey, and Blue soon discovers that he is a rich student at Aglionby, the local private school. Blue has a policy of staying away from Aglionby boys. Known as Raven Boys, they can only mean trouble.
But Blue is drawn to Gansey, in a way she can't entirely explain. He has it all—family money, good looks, devoted friends—but he's looking for much more than that. He is on a quest that has encompassed three other Raven Boys: Adam, the scholarship student who resents all the privilege around him; Ronan, the fierce soul who ranges from anger to despair; and Noah, the taciturn watcher of the four, who notices many things but says very little.
For as long as she can remember, Blue has been warned that she will cause her true love to die. She never thought this would be a problem. But now, as her life becomes caught up in the strange and sinister world of the Raven Boys, she's not so sure anymore.
10. Fern- A book that sparked your initial interest in a topic before sporing into a whole tbr of books on that topic.
Girl in Pieces by Kathleen Glasgow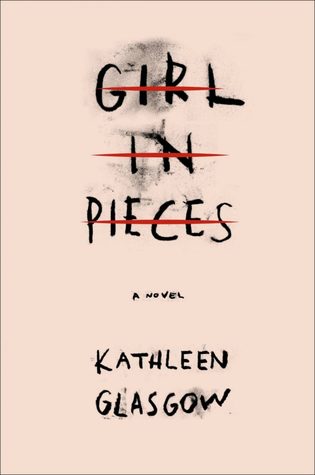 Charlotte Davis is in pieces. At seventeen she's already lost more than most people lose in a lifetime. But she's learned how to forget. The broken glass washes away the sorrow until there is nothing but calm. You don't have to think about your father and the river. Your best friend, who is gone forever. Or your mother, who has nothing left to give you.
Every new scar hardens Charlie's heart just a little more, yet it still hurts so much. It hurts enough to not care anymore, which is sometimes what has to happen before you can find your way back from the edge.
Topic: Mental Illness
Bonus Question: What is your favorite flower?
Black iris.